Blog
Written by York Print Company on 17/02/2015

Following our £60 Logo Design Offer in January, we've had a busy few weeks! Not that we are complaining because we love the challenge that designing a logo brings.
To understand what a logo is, we must first understand what it is for.
A logo is for… identification.
A logo identifies a company or product via the use of a mark or symbol. A logo does not sell the company directly or describe a business. Logo's derive their meaning from the quality of the thing it symbolises, not the other way around – logos are there to identity, not to explain. In a nutshell, what a logo means is more important than what it looks like.
It is also important to note that only after a logo becomes familiar, does it function the way it is intended to do much alike how we much must learn people's names to identify them.
The logo identifies a business or product in its simplest form.
Feel free to contact us via email or on 01904 623399, if you have any queries regarding logo design.
---
Written by York Print Company on 13/01/2015
JANUARY ONLY – Logo Design/Refresh
FOR
£60
Starting up a new business?
Need to re-fresh a your existing logo?
Logo design is everywhere. To the general public, logos serve as an instant reminder of a company or a product; to the client they're the point of recognition on which their branding hangs; and to us, the designers at York Print Company, they represent the challenge of incorporating our clients' brand into one single graphic.
Logo design features so prominently in our lives. We live in an age where everyone must have a website to support their product or service, therefore the demand for a top-class logo has never been higher.
With more examples of logo designs out there than ever before, comes the challenge of being different.
Be one of the first five lucky companies to order a logo, and we will design it       for just £60.  This is on a first come first served basis, so order your logo today!
Come in and see us or call us on 01904 623399.
TERMS & CONDITIONS APPLY.
---
Written by York Print Company on 08/01/2015
Poster and Tickets designed and printed for Derwent Danceworks.
We have been designing and printing for Miss Kate of Derwent Danceworks for a number of years now.  She recently came to us asking if we could put together some eye-catching graphics for her latest show. The show is based on putting a spin on fairytales. Pages from various stories have been ripped from books and stored in a jar, when the jar opens and the story unravels, everything is mixed up slightly. Our design needed to incorporate the essence of the story.
We are looking forward to working on the shows' programme within the next two weeks!
For more information email –  derwentdanceworks@hotmail.com or visit
www.derwentdance.co.uk
---
Written by York Print Company on 28/10/2014
Catalogues Designed and Printed for Europe LED Ltd.
We were challenged with designing a catalogue that gives information of various lighting solutions and components supplied by Europe LED Ltd. We designed the catalogue incorporating the bright and vibrant colours used within their logo.
As well as printing the catalogue we also turned the file into a flip pdf that could then be used on their website and also in the signature of their emails.
---
Written by York Print Company on 23/10/2014
Brochure Design & Printing for York University.
We met with the client to discuss styles, colour etc.. We agreed that the design should be simple and bold, with colour coding to differentiate between the courses.
Within the brochure design we used large, strong photographic images, quotations and bold colour to give this brochure a professional and yet vibrant feel.
The brochures are to promote the University of York Strategic Leadership Programme – for more information on this world class programme please visit www.york.ac.uk/yslp
---
Written by York Print Company on 01/09/2014
– Perfect Binding/Soft Binding
We know how tight your deadlines are and how important your theses and dissertations are. That's why we offer reliable, high quality thesis binding and dissertation binding for universities and colleges. We always go the extra mile to help you out, no matter how quickly you need it.
Call us on 01904 623399 or email us at info@yorkprintcompany.co.uk for more information.
---
Written by York Print Company on 02/07/2014

Professional Brochures
Why produce Brochures with York Print company?
Capture Interest
Striking covers will capture the interest of your readers.
Generate Interest
Prominent calls to action will generate interest.
Showcase Products
Well executed page layout will showcase your products and create the desire to buy.
Exite Your Audience
Expertly presented copy and graphics will excite your audience.
Overcome Objections
Presenting the reasons to buy helps to overcomes objections and creates confidence.
Give Assurance
Highlighting Testimonials will give assurance and encourage sales.
---
Written by York Print Company on 15/04/2014
Business Stationery Designed and Printed in York
We offer a special print rate for stationery packs including Business Cards, Compliment Slips and Letterheads.  We can print these from your own design files.  If you don't have any designs, don't worry, we can design them for you!
For more information either call us on 01904 623399 or email us at info@yorkprintcompany.co.uk
---
Written by York Print Company on 15/04/2014
Designed and printed sign for Cockerills or York.
Cockerills were having problems with people driving to the wrong destination, especially to the no entry part of their premises.  To combat this problem they requested that we design and print them a sign, that would be stationed at their entrance, showing visitors where to go.  It also had to highlight the safety restrictions on site and also their website.
Call us on 01904 623399 or email us for more information on signage.
---
Written by York Print Company on 08/04/2014
Fast turnaround printing
We were tasked with printing staff booklets for the new John Lewis in York. The job was needed quite urgently as 400+ new staff were about to have their initial briefing and John Lewis felt it would be good to hand out the booklet at the first chance, so all the new "partners"  had the relevant telephone number & info they may need.
For York print Company this is a perfect job as we specialize in fast turnaround digital print & have a sameday print section on the website especially for those "Need it Now"print jobs, so this job was enquired about on a Tuesday and delivered on the Thursday. Good luck with the new store John Lewis York – glad we could help.
From the John Lewis website:
Welcome to John Lewis York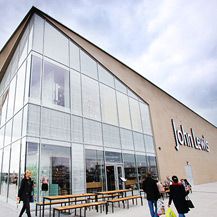 We're delighted to be opening a brand new shop in York. It will cover 92,000 sq ft and offer an edited collection of products across fashion, home and electronics, in an inspiring and contemporary setting.
We look forward to welcoming you on 10 April 2014.
Address
John Lewis York
Unit C
Vangarde Way
York
YO32 9AESat nav users please use: Jockey Lane, YO32
Telephone
0844 693 1767
---